By Dianne Battle, St. Johns CARES
In his book, "I Can Read with My Eyes Shut," Dr. Seuss' Cat in the Hat character says to a young reader, "The more that you read, the more things you will know. The more that you learn, the more places you'll go."
It has been sixty years since Dr. Seuss penned his first Cat in the Hat book. On the 20th observance of Seuss-inspired Read Across America Day, St. Johns CARES was pleased to work with Primrose Schools of Julington Creek and St. Johns Forest to collect hundreds of books for the Early Learning Coalition (ELC) North Florida's School Readiness Program.
ELC currently serves 6,100 at-risk children from birth to pre-kindergarten in St. Johns and five other counties. Our local Primrose schools play a significant role in donating the thousand books ELC hopes to receive as part of this year's Read Across America Day book collection. Children who are read to at an early age show improved school readiness scores and vocabulary.
Used books appropriate for 3-4 year olds are distributed to selected pre-schools. New books are included in take-home reading packs so that children can experience being read to by parents and caregivers. Early Learning Coordinator, Joan Whitson, commented that despite serving over 6,000 children ELC always has a waiting list. Volunteers trained as Reading Pals or for Literacy Outreach, and donations are crucial. See ELC's website, www.elcnorthflorida.org.
Donated books that are suitable for older children will be held by St. Johns CARES for summer activity packs the public school system distributes at the end of the school year to over 600 homeless students in its ASSIST (Aid & Support for Students in Sudden Transition) program. St. Johns CARES is now fundraising to provide middle school students with scholarships to attend Gamble Rogers Marine Science Camp. See the Chip in For Youth opportunity at www.stjohnscares.org.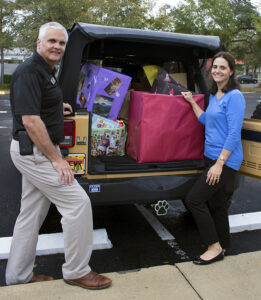 On March 2, Primrose demonstrated its commitment to improve academic outcomes for disadvantaged children. The jeep ELC's Kim Brumfield drove was loaded to capacity. Youngsters helped by these donations may be accepted into college some day; this month St. Johns CARES is filling suitcases with dorm necessities for college-bound ASSIST students. See our website, www.stjohnscares.org for information on Suitcases for Seniors and Chip in for Youth, or come to a meeting, 7PM third Tuesdays at Bartram Academy. St. Johns CARES is happy to help ELC North Florida keep the Cat in the Hat's promise, "Oh, the places you'll go."