Early Learning Coalition of North Florida
2450 Old Moultrie Road, Suite 103, St. Augustine, FL  32086
CONTACT:
Joan Whitson, Early Literacy Coordinator
FOR IMMEDIATE RELEASE
ELC Presents Preschool Teacher of the Year Awards
ST. AUGUSTINE, Fla., December 17, 2014- The Early Learning Coalition of North Florida (ELC) presents its winners of their first Preschool Teacher of the Year awards. ELC will award one exceptional preschool teacher representing each of the six counties they serve.
This year's winners are: Katherine Hall at Castle Brook Academy, St. Johns County; Anita Barr at Rainbow Family Education Center, Bradford County; Carlene Barrows at Yulee Kids Campus VPK Program, Nassau County; Lisa Baker at O2B Kids, Clay County; Jana Crews at Baker County Pre-K/Kindergarten Center and Connie Foster at Constance Foster Family Day Care, Putnam County.
The six-countywide preschool teacher recognition is to acknowledge the creativity and hard work of those who teach children at the most fundamental time in children's lives.
"These are the kind of teachers that children will remember for the rest of their lives," says Dawn Bell, CEO of ELC.
The grand-prize winner will be recognized at the Early Educators Conference on January 31, 2015 at the Thrasher-Horne Center. The recognition for the grand prize winner will include a weekend trip to St. Augustine with dinner, trolley excursion, attraction tickets and a stay at a bed and breakfast.
"Teaching is a special calling, and ELC is excited to be able to recognize the preschool teachers who represent the best in the six counties we serve," Bell says. "There's no better job than guiding children down a path of success. Great teachers like these have an incredible impact on our future."
For more than 16 years, ELC has served parents, caregivers and educators of children ages birth to pre-kindergarten by managing and evaluating early child care and early education programs through a quality school readiness delivery system in Baker, Bradford, Clay, Nassau, Putnam & St. Johns Counties.
For more information about ELC, contact Joan Whitson at [email protected] or visit www.elcnorthflorida.org.
###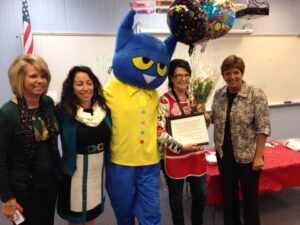 Baker County Winner: Jana Crews, (pictured Left to right) Jana Crews, Sherrie Raulerson, Baker County School Superintendent; Bonnie Jones; Pete the Cat; Jana Crews, Baker County Preschool Teacher of the year nomination winner; Joan Whitson, Early Literacy Coordinator at ELCNF.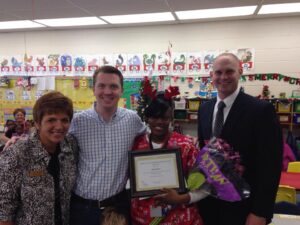 Bradford County Winner: Anita Barr, (pictured left to right) Joan Whitson, ELCNF Early Literacy Coordinator; Brian Graham, ELC Board Member and Bradford County School District Community Relations Coordinator; Anita Barr; Chad Farnsworth, Bradford County Superintendent of Schools.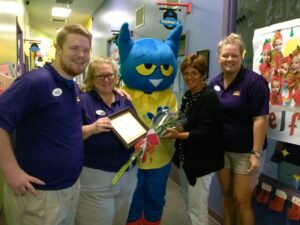 Clay County Winner: Lisa Baker, (pictured left to right) Josh Baker, Teacher and son of Lisa, Lisa Baker, Joan Whitson, ELCNF Early Literacy Coordinator and Ashley Stuhlman, director.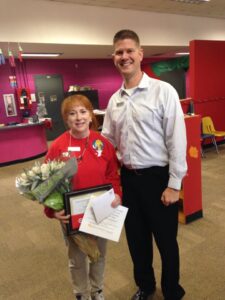 Nassau County Winner: Carlene Barrows, (pictured left to right) Carlene Barrows and YMCA director Jon Dearol.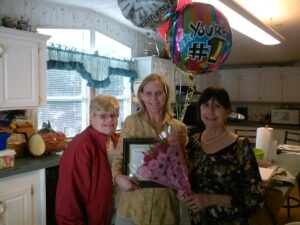 Putnam County winner: Connie Foster, (pictured left to right) Janet Dixon, ELC Board Member, Connie Foster, and Teresa Matheny, ECS Senior VP of Administration and Compliance.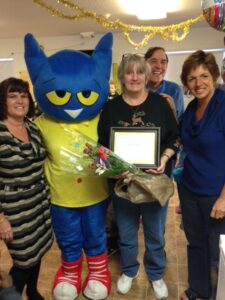 St. Johns County Winner: Kathrine Hall, (pictured left to right)  Marriane Brewer, Pete the Cat, Don Sutton, Owner Crowned Hart Preschools, Joan Whitson, ELCNF Early Literacy Coordinator.