PRESS RELEASE
Contact: Joan Whitson, Early Learning Literacy Coordinator, 
Early Learning Coalition of North Florida, Inc. 
Email: [email protected]  
Phone: 904-342-2267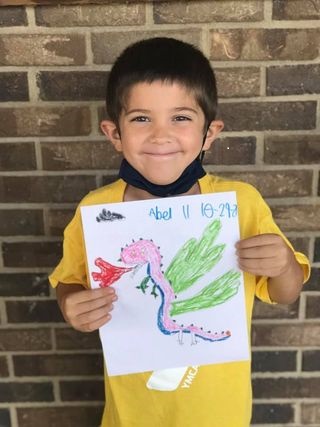 A student shows off a picture of the dragon from the book "Amy Wu and the Patchwork Dragon" by Kat Zhang during the 2021 Read for the Record event.
Link to Photo: https://elcnorthflorida.org/wp-content/uploads/2021/11/O2B-Kids-North-in-St.-augustine-scaled.jpg
Early Learning Coalition of North Florida Participates in Read for Record Event to Provide Kids with Books
Read for the Record, presented in partnership with the Pearson Foundation, is the annual event when millions of individuals come together to celebrate literacy by breaking the world record of reading the same book on the same day. On October 28th, 6,235 adults and children across the United States read the official campaign book, "Amy Wu and the Patchwork Dragon" by Kat Zhang. In this sweet and brightly illustrated picture book, Amy Wu must craft a dragon unlike any other to share with her class at school in this unforgettable follow-up to "Amy Wu and the Perfect Bao".
Ninety-two childcare providers and schools participated, including the three school districts Putnam, Clay, and St. Johns County in Florida. The ELC of North Florida provided every child care provider in Clay, Nassau, Baker, Bradford, Putnam and St. Johns with a FREE copy of "Amy Wu and the Patchwork Dragon", along with a packet of activities to do along with the book. The packet included a template that could be used to copy Read for the Record participation certificates to give each child.
The Early Learning Coalition is the leading voice in six counties for child care. ELC works with many other local agencies to ensure that all families have access to quality, affordable child care. Their mission is achieved by leading projects that increase the quality and availability of child care professionals, and advocate child care policies that positively impact the lives of children and families. To learn more about the Early Learning Coalition of North Florida and how to assist in ensuring quality child care for all families, visit us at www.elcnorthflorida.org.
###
Sponsored by