PRESS RELEASE
Contact: Joan Whitson, Early Learning Literacy Coordinator, 
Early Learning Coalition of North Florida, Inc. 
Email: [email protected]  
Phone: 904-342-2267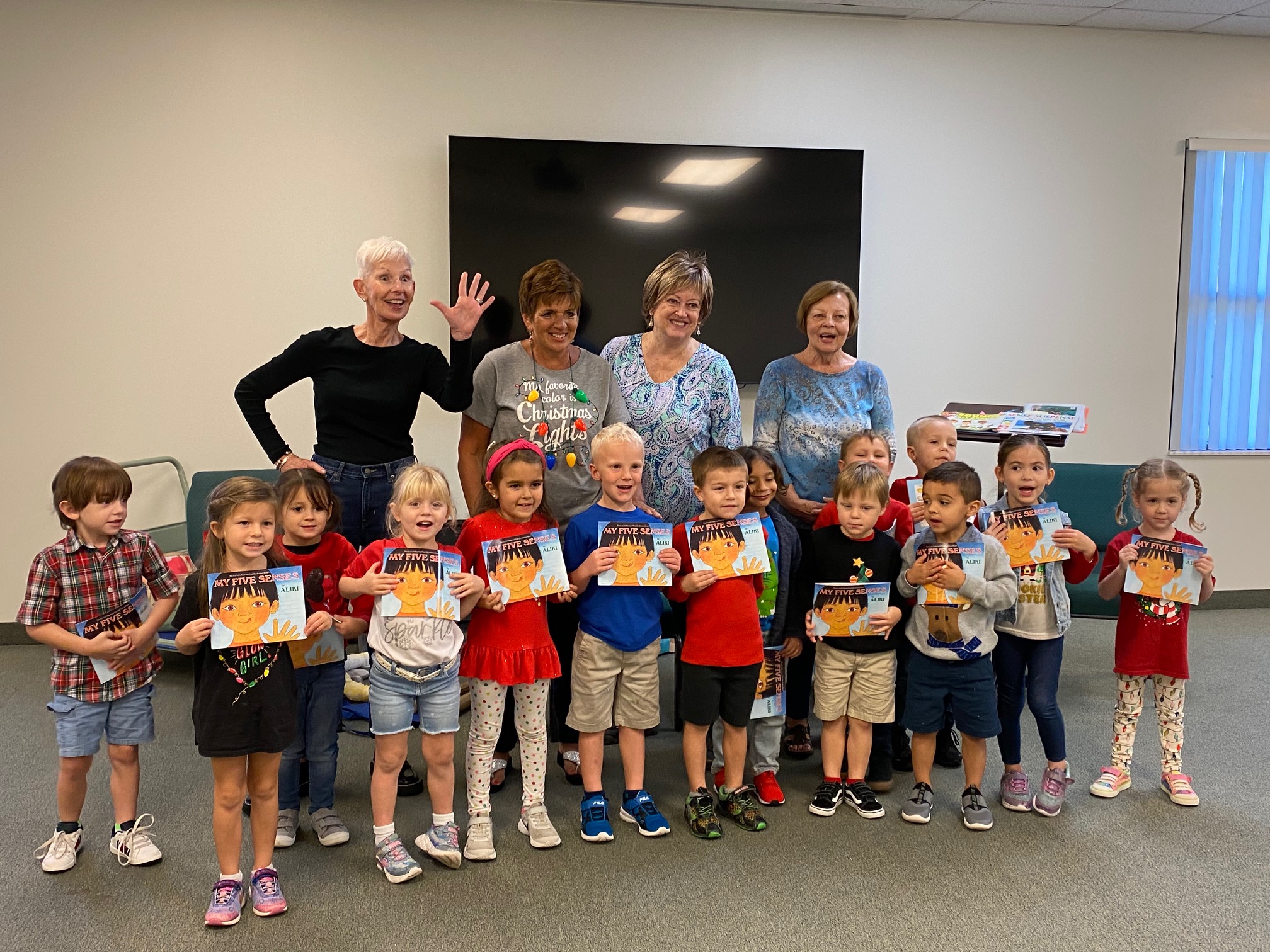 Students from Turning Point Christian Academy in St. Augustine show off their copies of the book "My Five Senses" by Aliki Brandenberg during a program put on by the Early Learning Coalition of North Florida in December 2021.
Link to Photo: https://elcnorthflorida.org/wp-content/uploads/2021/08/IMG_4195.jpg
Early Learning Coalition of North Florida Launches Five Senses Program for Children in St. Johns County
JOHNS COUNTY, Fla., December 8, 2021 – During the month of December, the Early Learning Coalition (ELC) of North Florida's team launched a new Five Senses Program throughout the St. Johns County area which introduces children to touch, sight, hearing, smell and taste. This themed early literacy program is put on by the ELC of North Florida's outreach team staff and volunteers in local preschools.
The Five Senses Program consists of a highly interactive story time filled with music, followed by a period of hands-on learning activities. The children get to learn about animals that have super senses, such as bats. They also learn about sounds and vibrations by making sounds with their bodies and musical instruments. The kids test their seeing skills by looking at pictures of items up close and trying to guess what they are. They challenge their sense of smell by trying to guess smells put in mystery jars. At the end of the program, the children make their own touch book filled with differently textured items. 
All participating children receive a free copy of the book "My Five Senses" by Aliki Brandenberg and each classroom teacher receives a large bag of teaching materials relating to the five senses theme. The ELC of North Florida regularly puts on themed literacy programs like this throughout the year with the goal of sharing quality programming and materials with local preschools. 
The Early Learning Coalition is the leading voice in six counties for child care. ELC works with many other local agencies to ensure that all families have access to quality, affordable child care. Their mission is achieved by leading projects that increase the quality and availability of child care professionals, and advocate child care policies that positively impact the lives of children and families. To learn more about the Early Learning Coalition of North Florida and how to assist in ensuring quality child care for all families, visit us at www.elcnorthflorida.org.
###
Sponsored by

Other Photos:
https://elcnorthflorida.org/wp-content/uploads/2021/08/IMG_4182.jpg 
https://elcnorthflorida.org/wp-content/uploads/2021/08/IMG_4185.jpg
https://elcnorthflorida.org/wp-content/uploads/2021/08/IMG_4194.jpg
https://elcnorthflorida.org/wp-content/uploads/2021/08/IMG_4200.jpg
https://elcnorthflorida.org/wp-content/uploads/2021/08/Miranda-with-Teacher-Bag.jpg
https://elcnorthflorida.org/wp-content/uploads/2021/08/smelling-game-4.jpg
https://elcnorthflorida.org/wp-content/uploads/2021/08/Touch-book-2.jpg
https://elcnorthflorida.org/wp-content/uploads/2021/08/touch-book.jpg 
https://elcnorthflorida.org/wp-content/uploads/2021/08/group-photo.jpg