The date has been set for February 11, 2023. Visit this page as details develop. 
Link: https://elcnorthflorida.org/wp-content/uploads/2023/01/ELC-Conference-2023-Flyer_Final-scaled.jpg
EARLY EDUCATORS CONFERENCE 2023
Saturday, February 11, 2023
Thrasher Horne Conference Center
283 College Drive
Orange Park, FL 32065
$30 Lunch Included
Wear Your Beach Attire
Session #1 – "CLASSING Through the Day" – Denver Blake and Jasmine Jackson
Discovering how to incorporate CLASS into every area of your day from morning arrival to transitions to lunch on the playground and saying goodbye for the day. This session will be an interactive session and participants will be encouraged to brainstorm with fellow teachers, administrators and directors that are in attendance.
Session #2– "Laying the Groundwork for Purpose" – Directors/Leaders track – Jena Waters, Katrina Willis, Kelley warner, Susan Murphy, and Rebecca Huth  (same participants will attend both sessions)
This session lays the groundwork for establishing and maintaining positive work environments and assisting with staff retention. Learn to build a philosophy for the center that infuses accountability, school values, shaping practices, and providing self-care tools for staff to maintain positive and supportive relationships. Learn ways and the importance to foster relationships amongst staff by understanding personal styles to bridge gaps to work together more efficiently and productively.
Session #3– "Through a Child's Eye" (Loose parts play) – Ariel Jones, Brianna DeOsca, Krytol Berry, Santanna Walker, Alisha Dexter
In this session, participants will play in centers and gain an understanding of structured play versus free play. Activities will be centered around CLASS as well as how to implement different strategies in the classroom to encourage an engaging environment. Join us in seeing how to play, through a child's eyes!"
Session #4–  "Crawlers, Walkers, Mover, Shakers, Enriching Activities for Infants and Young Toddlers" – Jhordan Speed-Johnson and Sherry Tindall
A child's exploration and discovery of the world around them begins the moment they're born. This session will teach educators infant-focused and young toddler-focused strategies that promote physical, mental, cognitive, and social skills. All activities and strategies will be appropriate for infants to 18 months.
Session #5– Talking with Littles – Rachel Giannini
The art of questioning and key to rich conversations. In this interactive workshop participants take a deep dive into the art of engaging in meaningful conversations with children. From serve and return to open ended questioning, practice all the techniques to foster conversations to create higher-order thinking.
Session #6 – Making Connections Verses Corrections – Musician and speaker Anna Moo
We often spend a vast amount of energy correcting and attempting to discipline a child when if we simply are making more connections, we won't have to spend so much stressful time correcting, giving time outs, and using disciplinary tactics. This session will show some simple techniques for getting children on board by effectively engaging with them. Teachers will use music, art, and movement to engage children in learning creative ways of self-expression.  The goal is to connect with love and positive guidance so that there is mutual respect and trust.
8:30-9:00 – Registration (Coffee and snacks available)
9:00 am – Welcome
9:15-10:15 – Keynote Session #1 (Rachel Giannini) "Love and Resilience"
10:15-10:30 – Break
10:30-11:30 – Keynote Speaker Session #2 (Rachel Giannini) "Because"
11:30-12:00 – Door Prizes and Teacher of the Year Presentation
12:00-1:00 – Lunch
1:00-2:00 – Break Out Session #1 (six sessions being offered)
*Remember to register for Breakout Sessions 1 and 2 when you register for the Conference as they will fill up fast!
*$30 registration fee payment is made through our website at www.elcnorthflorida.org. Click the Events Tab! Direct link is: https://www.eventbrite.com/e/elc-of-n-florida-early-educators-conference-tickets-498829952817https://www.eventbrite.com/e/elc-of-n-florida-early-educators-conference-tickets-217087633957 
Registration will begin on January 2nd and close February 3rd, 2023. Please call 904-342-2267 at ext. 202 or 203 for more information! We can't wait to see you there!
OUR SPEAKERS!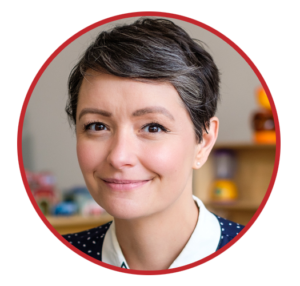 Rachel Giannini is a childhood specialist, early childhood advocate, and video blog host. She currently splits her time as a public speaker, early childhood commentator, and curriculum designer. Rachel's writing, expertise, and videos have appeared in Vox, The New York Times, HuffPost, Child Care Exchange, and Chicago Parent. Rachel has an MFA in Museum Education from the University of Illinois and is a volunteer hospital magician for Open Heart Magic.
Anna Moo is an award winning songwriter and recording artist of music for children. Moo is also a children's author (Five Frogs) and nationally recognized keynote speaker for Early Childhood Educators. Moo's multicultural music has been applauded by the Parent's Choice Foundation (six Parent's Choice Gold Awards), multiple Grammy considerations, the Los Angeles Times, the American Library Association (three ALA Awards) and the Washington Post.
Attendees will receive 4 IACET CEUs for attending.
Contact Joan Whitson at [email protected] for more information.
Sponsorship by the Early Learning Coalition of North Florida and the state of Florida, Division of Early Learning.